The API of our HTTP proxy list and socks proxy is just a link. There is no complex configuration or document. Here we go.
1. Log in to the customer area
2. Click the "API" link of your proxy list license
3. Config the filter and format of the API URL
A) For the HTTP proxy list, you can filter it by country, anonymity, and HTTPS feature.
B) For the socks proxy list, you can filter it by country and version (socks5 or socks4). There is no need to filter it by anonymity or HTTPS since all socks proxies are highly anonymous and support HTTPS natively.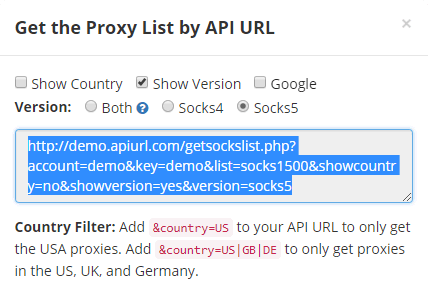 C) Port Filter: Add &port=80 to your API URL to only get the 80-port proxies. Add &port=80|443|1080 to only get proxies with the port 80, 443, or 1080. It's a hidden filter that isn't shown in the customer area because few users need it.
4. Use the API URL in the browser or your own script/program
This demo image shows the country code. You can choose not to show it.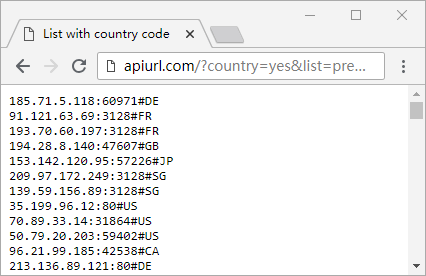 That's all. It's so easy. Not tried yet? Give a try on our HTTP or Socks Proxy List. We provide a 15-day money-back guarantee. If not satisfied, you can request a full refund.